Help with Ordering Parts for Dodge Jeep A500/A518/A618 Transmissions? Filter, Solenoid & Pan Gasket Differences
Dodge / Chrysler / Jeep Transmission Information
A518 / A618 / A500 Automatic Transmissions
46RE/46RH | 47RE/47RH | 48RE | 42RE/42RH 40RH 44RE
Be careful when ordering and make certain you have an A518, A618 or 48RE transmission and not a A500 transmission.
There are many common parts between Dodge/Jeep A500, A518 and A618 transmissions, so it is important to know which model you have and what year range your transmissions is in before ordering any parts. Below are some easy ways to help figure out your A500 (42RE/44RE), A518 (46RE/46RH), A618 (47RE/47RH) or 48RE transmission. Please feel free to contact us if you still need help determining what transmission parts you are looking for.
A500 vs A518/A618 Pan Gasket Styles
Getting underneath your vehicle and looking up at your transmission's oil pan is the best way to accurately determine what type of automatic transmission you have. Since the A500 and A518/A618 both have 14 pan bolt holes, you'll have to use the pan's outline to figure our the transmission model.
The A500 pan gasket (pictured below to the left) is almost rectangular in shape aside from a small cutout in the order. The A518/A618 transmission's oil pan's shape has more curves to it aside from one straight edge. As you can see in the picture below, the A518/A618 is fairly distinct when side-by-side with the A500 oil pan's shape.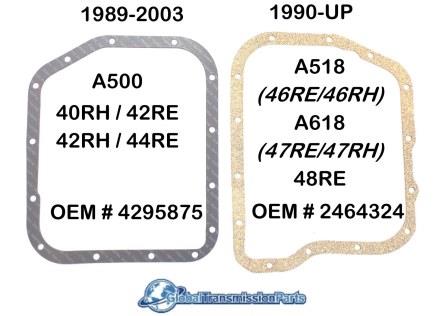 At Global Transmission Parts we offer two different pan gasket materials for the A500 (Cork / Farpak) and three different materials for A518/A618 transmissions (Cork / Farpak / Molded Rubber). The 48RE transmission came from the factory with a molded rubber oil pan gasket (OEM # 2464324AC / GTP # 4014C). This molded rubber pan gasket can be used to upgrade any earlier A727, A518 or A618 transmission.
3-Bolt Oil Filter or 2-Bolt Oil Filter
There are two styles of oil filter that service all A500, A518, A618 and 48RE Dodge/Chrylser/Jeep automatic transmissions: 2-Bolt Metal on Plastic (OEM # 3515996 / GTP # 4015B) and 3-Bolt Felt (OEM # 52118789 / GTP # 4015).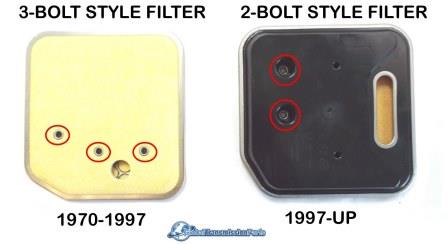 Both filters can be found in 1997 year model A500/A518/A618 transmissions. If you are working on a 1996-1997 year transmission you'll want to double check what style filter your transmission takes. Unfortunately there is no surefire way to do this just by inspecting the outside of your transmission.
Governor Pressure Sensor Changes
1999/2000 model year A500, A518 and A618 transmission's valve body had a major change to the governor pressure sensor. 2000 and up models switched to an all plastic style (OEM # 56028196AD / GTP # 4070BA). This is noticeably different then the 1996-1995 metal on plastic style (OEM # 560211403AA / GTP # 4070AA).
Transmission Solenoid & Filter Service Kits
A518 (46RE/46RH) A618 (47RE/47RH) 48RE
Transmission Solenoid & Filter Service Kits